Solipo is GUI wrapper application for polipo on Windows. Solipo is FREE software.
polipo will run in the background as soon as solipo is started.
solipo works on Windows XP.
I presume solipo can also run on Windows Vista / Windows 7 but I have never checked because I don't have Windows Vista / Windows 7.
Solipo's icon is designed by Turkie (twilight bookstore).
How to install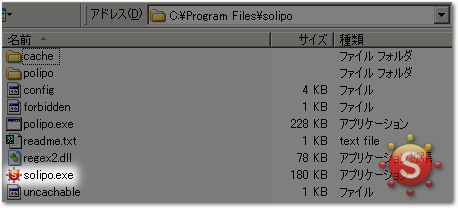 decompress downloaded archive ("solipoXXX.zip").
put the folder "solipo" into a certain place ("Program Files" folder is recommended).
run "solipo.exe".
set proxy address to "127.0.0.1" and port to "8123" on your browser.
You can just delete "solipo" folder to unstall.
How to use
solipo stays as tray icon on Windows task bar.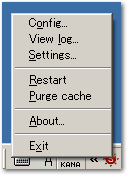 A menu will be opened clicking the solipo icon.
Config...

opens polipo configuration on a browser.

View log...

opens log file on an editor.

Settings...

opens a dialog to configure settings.

Restart

reboots polipo.

Purge cache

purges cache directory (polipo functionality)

About...

opens "About" dialog.

Exit

quits the application, polipo will be stopped as well.