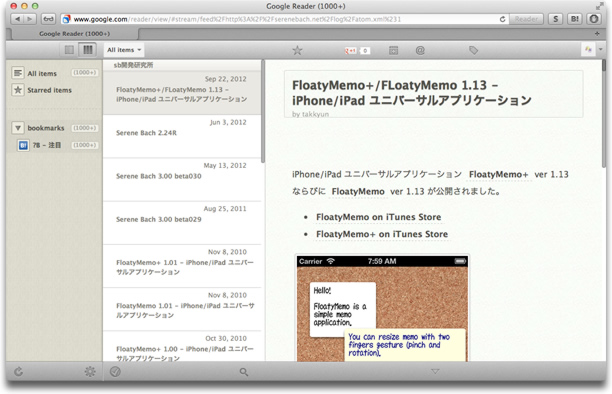 Reeder is a great stand-alone application to browse Google Reader.
Reeder for Chrome (Unofficial) is a Chrome extension and it's inspired from Reeder to browse Google Reader on Chrome with similar look & feel to Reeder.
Unfortunately development of RFC has been suspended. However its code has been opened on GitHub.
Main funtionality of RFC, i.e. its look & feel, is implemented in CSS, so it can be applied into other browsers via Stylish (or equivalent functionality, like user style sheet).
Download Stylish from Stylish for Safari.
Open Stylish management page from Stylish button on toolbar.
Select "Edit" to open edit screen:

Title

RFC

CSS

Copy CSS from GitHub.

Applies to

Select "Regexp" then, input https?://www.google.*/reader/.*
Now you can see Google Reader with Reeder-ish style. I recommend using "3 coulmns style".
It can be applied into Firefox via Stylish, you however need to modify CSS a bit because original CSS is using Webkit specific CSS properties.